Book Best Tours, Activities & Cruises in Santorini
Best-Selling Santorini Tours & Activities
Best-Selling Santorini Cruises & Boat Tours
Fun facts about Santorini:
There are more churches than houses, more donkeys than people and more wine than water on the island.
Santorini is the remains of a volcanic eruption, which took place over 3,600 years ago.
Due to the unique climate and environment, the local wine is recognized worldwide for its divine taste.
Santorini is one of the few places on earth where you can see white, black and red beaches.
Locals used to build their homes inside the island's volcanic walls.
Getting to know Santorini
Santorini, or Thera in Greek, is a truly authentic island widely recognized for its gorgeous caldera and breathtaking landscape. This crescent shape volcanic island is located in the south of the Cyclades area in the Aegean Sea and has been one of the most popular summer destinations in the world. The multicolored cave houses, turquoise water, hospitable people and delicious cuisine is what makes this volcanic island appear on everyone's bucket list.
The reason why Santorini is one of the most popular destinations in the world is because it has something to offer for everyone's needs and preferences. If you prefer having a relaxed holiday sipping iced coffee by the pool while sunbathing, then Santorini is the place for you. On the other hand, if you are more interested in participating in some outdoorsy activities and exploring the incredible sights and culture of this island then Santorini can offer you that as well. 
Oia
Perhaps the most iconic town of Santorini, Oia is home to countless white houses, churches and narrow alleys. Be sure to visit Oia during the evening to witness the most famous sunset.
Akrotiri
An archeological site featuring an excavation of a preserved Bronze Age settlement. This is the most historically significant archeological site of the Cyclades.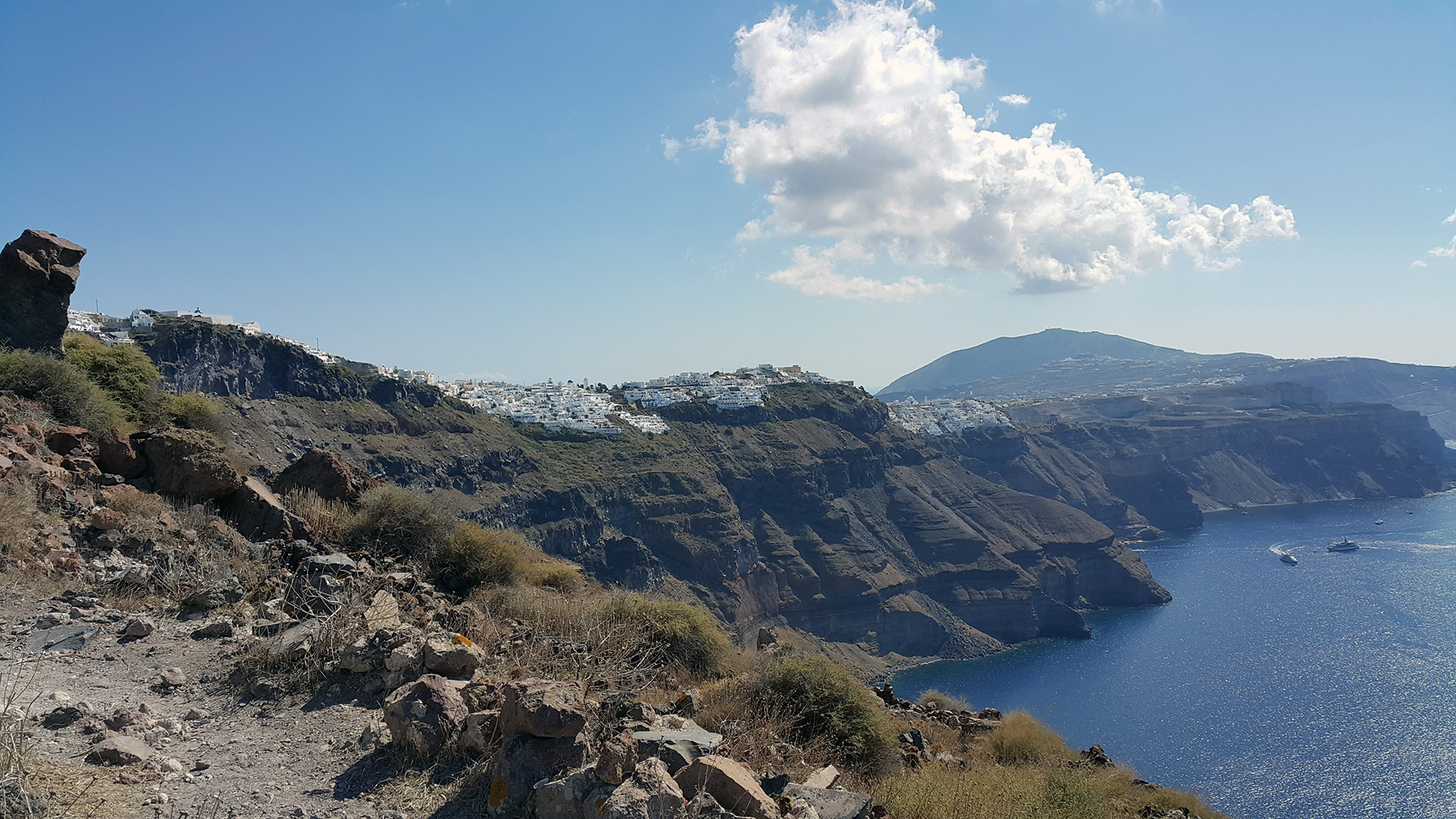 Santorini Caldera
A large volcanic crater, the Santorini Caldera is perfect for hiking. Panoramic views, hiking trails, and healing thermal baths make this island like no other.
Red Beach
As the name implies, the Red Beach gets its name from the red volcanic pebbles. This unique beach is a must-see while in Santorini.
Fira
The island's capital is Fira which is located on the very edge of the caldera, is a colourful village decorated with scenic cave houses and churches connected together with narrow cobblestone streets.
Thirassia
Don't miss the opportunity to hop on the boat and explore neighbouring islands, such as Thirassia, and spend the day swimming in the deep blue waters of Aegean Sea.
Getting Around in Santorini
The main port of Santorini is named Athinios and serves passenger ferries and cargo. There is only one passenger terminal building that is usually very crowded during the peak season and you may not find a free place to sit. We recommend you arrive at the port about 45 minutes before the departure time. If you want to find a free cab or a free sit on the bus towards Fira, when arriving at Santorini port, it is better to get off the ferry as quickly as possible.
Taking the ferry from Athens to Santorini is definitely an interesting experience. While sailing to Santorini from Athens, you will encounter breathtaking views of the endless blue.
The fastest way to get to Santorini from Athens is by airplane. The trip duration is about 45 minutes. The primary airlines are RyanAir, EasyJet, Aegean Airlines and Olympic Airlines.
By now, you must be aware that Greece is known for its tasty, mediterranean cuisine. For that, Santorini is no exception. The island cuisine is rather delicious and varies from traditional kalamari delicacies to local specialties such as tomato gefthedes (tomato fritters), fava (yellow split peas spread), "hloro tyri"- special fresh goat cheese. Also, you can't miss the chance to try the famous saganaki- fried cheese in leafy pastry covered with honey. All this must be paired with acclaimed local wines such as Asyrtiko, Athyri and Mavrotragano.
Santorini, officially Thira and classic Greek Thera, is an island in the southern Aegean Sea, about 200 km southeast of Greece's mainland. It is the largest island of a small, circular archipelago, which bears the same name and is the remnant of a volcanic caldera.
Discover Santorini Island on our Blog
Planning a 3 day visit to Santorini? Follow along our itinerary for all the tips on what to do, things to see, and more! Get ideas on tours and activities to do in Santorini in 3 days and make the most out of your trip!
Santorini is home to one of the most unique landscape structures in Greece. As a result? The local food produced in Santorini is vastly different from the rest of the country. Bring your appetite as we dive deep into the top 10 Greek foods to try in Santorini.
Santorini is the number one destination for those who want to experience a traditional Greek island, unique landscape formations combined with a luxurious touch. You will be spellbound by its magnificent views, fun nightlife, amazing one of a kind beaches and unique local flavours. A plethora of fun tours, activities and things to do in Santorini along with the romantic feel of this Greek island, will keep you wanting to come back for more!
Our endless list of things to do in Greece while following a 10 day Greece Itinerary promises nothing but fun and joy, so pack your bags guys because the adventure of your lifetime is calling your name!
Greece is an amazing place to visit as you have the most renowned monuments in the world, from the Acropolis and Parthenon of Athens, to the remarkable sunset of Santorini, and from the unparalleled lifestyle of Mykonos to the serenity of Naxos, our travel guide will cover every little detail of your travel planning. 
Find the best boat tours in Santorini and explore the gorgeous island in the best way possible. Embark on an incredible boat tour in Santorini and perceive the gorgeous landscapes and the perfect blue sea. Admire the magical sunset of Santorini on a catamaran, satisfy your inner adventurer on a jet-ski tour or go fishing with your friends and loved ones. Book an amazing boat tour in Santorini and live an unforgettable experience that you will cherish forever.