What are the best  10+1 Greek food to try when visiting Greece?
What is your favourite Greek food from our "10+1 most famous food to taste in Greece" list? Are you visiting Greece for the first time and you need a guide of what to eat in Greece, this foodies guide is for you! Are you ready to explore some of the most famous traditional Greek food, renowned for its unique taste? Let's embark on this culinary journey through aromas and flavors of Greece.
Bon appetit!
#1. Greek Food: Pastitsio – Baked pasta dish
"Che pasticcio!" – An Italian phrase and the origin of the Pastitsio name. Do you know why?
Although literally, this phrase means "what a mess", Pastitsio is named so, because of its layers of pasta, minced meat, and béchamel sauce, creating a "mess" of wonderful flavors. Additionally, it took its name from the Italian pasticcio, a type of savory pies with meat or pasta. Even if its name is not Greek, it is a traditional baked pasta dish of the Greek cuisine and one of the favorite dishes of Greeks.  Especially children love it! Besides, who does not like pasta?
If you come to Greece and want to taste mummy's homemade food, ask for pastitsio. There are many different versions, but for sure, whatever you choose, it will delight you with its perfect flavors! What's more, if you love posting foodie pictures on your Instagram feed, pastitsio is exactly the instagrammable food of Greece that will definitely whet your Instagram followers' appetite!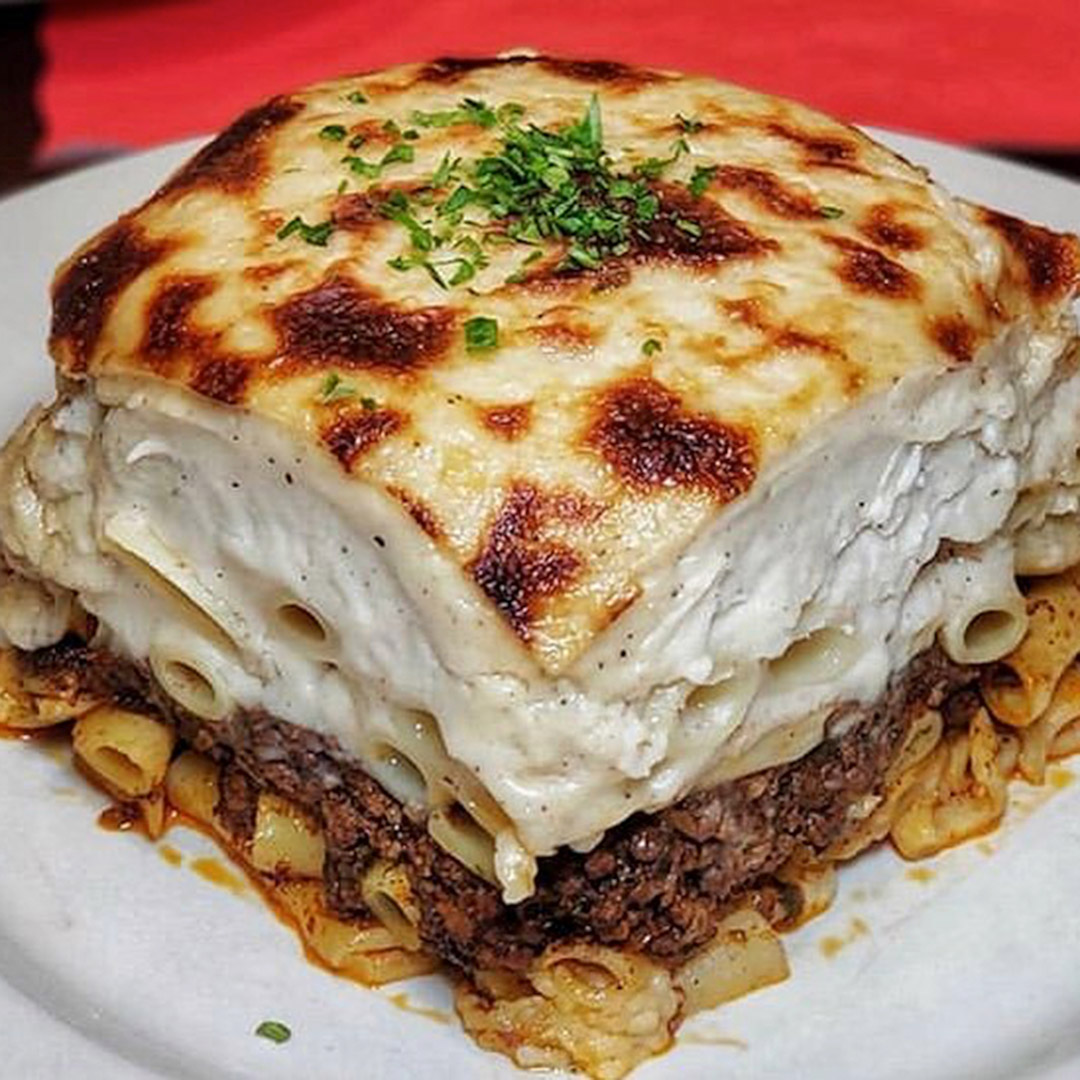 photo by @fatguyfrombrooklyn
#2. Greek Food: Olives and Olive oil
Who is leaving from Greece, without tasting olives or olive oil?
Greek olive oil is well-known all around the world. Almost in any corner of this country, olive trees are harvested and different kind of olive oil is produced. But, did you know that the olive tree is also the symbol of peace? Probably yes! Let's see how this association began!
All began in Ancient Greece. According to Greek mythology, Athena, the goddess of wisdom,  created an Olive tree as a present to Zeus, in order to be chosen to guard the ancient city of Athens, instead of Poseidon. Poseidon, the god of the sea,  created a water spring, crashing the hill of the Acropolis. The  Athenian chose Athena and since then the Olive Tree is the most sacred tree in Greece!
The best way to take as much as possible from the Greek cuisine, that is based on olive oil, is to join one of our specialized food tasting tours. When in Crete don't miss an olives tasting tour in Chania or in Rethymno or a visit to Olive Tree Museum, while if you visit Nafplio, join our olive oil tour. In Thessaloniki, the gastronomic capital of Greece, an olive oil and olive tasting experience is a must-do activity, whilst if you find yourself in Athens, join in an olive oil tasting workshop, so you don't leave from Greece without immersing yourself into this absolute culinary experience!
photo by @valantis_zoumis
#3. Greek Food: Grilled halloumi
Are you fond of cheese? If you have ever tried grilled halloumi with fig jam, you know what pleasure without limits means!
Halloumi is widely known in Greece as a Cypriot cheese, although it is produced also in other areas. It has a white color and its important feature is that it does not melt in the high temperature it develops when it is cooked. The roasted halloumi with fresh, roasted figs, honey and mint is a popular recipe, since the combination of sweet with salt creates a blend of flavors that will undoubtedly delight you!
Experience the authentic Greek food culture through your stomach on one of our gastronomy tours! If you are looking for a cheese tasting workshop in Greece, immerse yourself in a food journey by tasting Greek cheese in Thessaloniki or learn firsthand the cheese making process in Crete. Don't forget to tag us on your 'cheesy' photos on Instagram using our hashtag #grekaddict!
photo by @mezze_glyfada
#4. Greek Food: Sour Cherry Spoon Sweet
We are sure that after a delicious meal in a Greek restaurant or traditional tavern, a little dessert appeared like magic on your table. But how many times, have you tried this delicious sour cherry spoon sweet, while in Greece?
To begin with, these Greek fruit preserves, widely known as spoon sweets, are served by Greeks as a dessert, usually in small crystal plate with a spoon, thus justifying their name. Although Greeks preserve not only fruits but also vegetables such as eggplant as well as nuts, the sour cherry spoon cherry is one of the most popular among Greeks. It is served usually with Greek yogurt or ice cream. Even if it is a little bit sweeter, one only spoonful is enough to take the full taste of this amazing dessert!
Don't miss the opportunity to sample luscious spoon sweets through Deli tasting in a popular gastronomic destination like Thessaloniki or enjoy local spoon sweets after a cooking class in Chios or a cooking lesson in Chania! Don't forget to drink water after the sweet spoon in order to wash it down!
photo by @valantis_zoumis
#5. Greek Food: Koulouri – Sesame bagel
Strolling around streets of Thessaloniki, you probably have noticed some food vendors selling these sesame bread rings called them "koulouri", aren't you?
This circular bread with sesame seeds is definitely one of the most popular street foods in Greece. Although it's so simple, it is also an important and healthy source of energy. Thessaloniki is assumed to be its city of origin since you can find street vendors, "koulourtzides" with hand baskets full of different variations of koulouri almost everywhere and any time. The classic sesame-seed koulouri of Thessaloniki was the first to be made by the refugees that came to the city from Asia Minor.
Give taste to your stay in Greece with a food and culture tour in Athens or in Thessaloniki and 'walk and eat' local delicacies that will stay at your heart forever! The koulouri can be the extra element on your instagrammable food pictures of Greece that will take your Instagram photo gallery to the next level! Any ideas of posting the most instagrammable koulouri picture?
photo by  @elaia_hamptons
#6. Greek Food: Gyros
It's almost improbable to go somewhere in Greece without coming across any small restaurant serving gyro or meeting locals or travelers on the streets who walk and eat gyro. This yummy food is Greece's most popular street food! Haven't you tried it yet?
When the meat is cooked on a vertical rotating spit is known as gyros.  It is usually served as a sandwich, wrapped in a flat pita bread topped with onion, tomatoes, tzatziki sauce, and French fries. Gyros got its name from the word "wound", meaning that the slices of meat are wound around a spit and cooked on a rotisserie. This rotisserie-style of grilling meat was firstly found in Bursa by Turks, and it is similar to the way they used to cook the döner kebabs. Nowadays, gyros has already spread to many countries around the world. However, in Greece, you will find the most delicious gyros with the best ingredients! We suggest you add in your sandwich tzatziki sauce, for an ultimate Greek authentic sense of taste!
If you are wondering what to eat in Greece, find the answer into one of the hundreds 'gyradika'- the restaurants serving gyro. Do you want to take a really instagrammable picture of yours? Grab a Gyro sandwich in your hand and take your best pose!
photo by @_kajakiki_
#7. Greek Food: Mussels
Imagine yourself sitting in a picturesque Greek restaurant by the sea, drinking some fine wine or Greek ouzo and preparing yourself to immerse into the Greek cuisine by tasting traditional Greek seafood dishes. What's at the top of our list? Of course wine-steamed mussels.
If you want to satisfy your food cravings and get the real taste of the Greek sea, try the salty broth coming from these delicious mussels. Did you know that the color of the female mussels is orange, while male mussels are light yellow? There are many variations of cooking this tasty dish, wine-steamed mussels, or mussels saganaki. Just remember that before cooking, mussels should be tightly closed, while after cooking, shells open. In any case, you will need a slice of bread to dig in all that amazing sauce, in which mussels are cooked.
No matter, how this traditional Greek dish is prepared, you can't miss out this delicious Greek appetizer! Stroll around the fish market in Chios or the open air markets in Chania or Heraklion, choose the best mussels with the assistance of the local seller and immerse yourself into a traditional food tasting experience in Greece. Delicious? Share with us your food activity results on Instagram using our #grekaddict.
photo by @mezze_glyfada
#8. Greek Food: Tomatokeftedes – Fried tomato fritters
What about immersing yourself into a vegan food experience and tasting a traditional Greek vegetarian dish, but the same delicious as the aforementioned Greek dishes? What do you think of tomato balls accompanied by tzatziki sauce? Yummy!
Although, you can find this dish in many regions of Greece, especially the Greek islands, tomatokeftedes of Santorini and Syros island are assumed to be the most popular in Greece and an important reason to join a gastronomic tour! They are usually served as an appetizer and accompanied with tzatziki sauce. Santorini is rich in cherry tomatoes, a local type of tomatoes, and this is the reason why the Santorini tomatokeftedes are so mouthwatering! Not only, Santorini is well known for its delicious tomatokeftedes, but also Chios island is!
Would you like to learn how to cook this traditional Greek food and find out how well you did? Follow us on a culinary journey in Chios, join us on a foodie tour in Mykonos, or come with us to a cooking class in Athens and get the fullest of the tour de Greek flavors and aromas!
photo by @cardamom_and_dill
#9. Greek Food: Sarmadakia – Grape Leaves stuffed with rice
Do you know what "sarma" mean? Dishes that include wrapping leaves such as vine leaves are called sarma. The term "sarma" comes from the Turkish verb sarmak meaning "wrap".
Sarmadakia or dolmadakia are tiny dolmades, usually handmade prepared, made of stuffed grape leaves with ground lamb or beef and rice stuffing. Traditionally, this dish is served as an appetizer with slices of lemon. In Greece, you can find it as a main course, too. Greeks usually eat it with egg and lemon sauce or with yogurt. The special, unique flavor of dolmadakia exists due to the vine leaves in which the rice and herbs are wrapped. If you find this cooking experience interesting, try to make this delicious Greek dish at home and become an expert on wrapping sarmadakia!
Dolmadakia or Sarmadakia, call it however you like, but please don't miss the opportunity to join a food walking tour in Heraklion, when in Crete or a foot food tour in Athens! Don't hesitate to share with us your culinary experience of tasting this mouthwatering dish! We would love to see how your food journey was on Instagram with our hashtag #grekaddict!

photo by @giorgos_tsoulis
#10. Greek Food: Cretan Ntakos
Mediterranean cuisine is one of the reasons for longevity. Moreover, Cretan cuisine is considered to be one of the healthiest diets in the world. Ntakos or dakos is a traditional veggie dish from the island of Crete. Have you ever tasted local cuisine in Crete?
This Cretan appetizer consists of a slice of soaked dried bread topped with chopped tomatoes and crumbled feta or mizithra cheese. In order to complete perfectly this food, Cretans garnish the ntakos with extra virgin olive oil and add flavor with oregano. The secret for the best ntakos recipe is to use juicy, fresh, tomatoes as they are the key ingredient that brings this dish to life. Another hidden secret is that this dish is also called koukouvagia, owl in Greek. This term has its origin in a pub near Rethymno city, where according to rumors, a lot of owls fly around the bar. Others claim, that the barman's name was Owl, and he used to serve round barley rusks with all the aforementioned ntakos ingredients.
In order to find out all the hidden secrets of the Cretan cuisine and learn by yourself how to prepare this delicious dish,  join in a cooking class either in Chania or in Heraklion! This authentic Greek cooking experience should not be missed out from your Instagram photo gallery!

photo by @visitgreecegr
#11. Greek Food: Grilled Octopus
The grilled octopus is part of the menu of almost every fish tavern in Greece and a must-taste fish dish of the Greek cuisine. After all, Greeks have been eating octopus since ancient times.
On Greek islands, where the catch is usually fresh, the cooks hang the octopus to dry, before cooking it. Do you know why? The answer is simple. The octopus, like the most soft-bodied mollusks, consists mainly of water. Therefore, if it is cooked right away after being caught, all the water converts into a rubbery mass. For this reason, the octopus is hanging on a clothesline almost a day before cooking, until it becomes half its size. After cooking, its size is reset to normal.
So, keep in mind, when you see octopus hanging on a clothesline in front of fish taverns, it means that the catch is fresh. Thus, it is worth stopping for a Greek meze! Have your camera close to capture these instagrammable food hanging in front of a fish tavern with sea background and make your Instagram followers go crazy!