Private Cretan Cooking Class in Heraklion In a Nutshell
Experience the tradition of Cretan people and learn how to make delicious Greek specialties during this engaging and fun cooking class. Discover the old authentic recipes shared from generation to generation with the private Cretan Cooking Class in Heraklion!
Start Time
10:00 am

11:00 am

12:00 pm

14:00 pm

Duration
4 hours
Rates

Group of 1-2 people: 360€
Group of 3 people: 415€
Group of 4 people: 510€
Group of 5 people: 590€
Group of 6 people: 640€

Highlights

Engaging activity in Heraklion
Authentic Cretan Cooking Class
Lead by expert chefs
Create traditional Greek dishes
Learn about Greek culture and cuisine
Fun for the whole family

Inclusions

Cooking class
Meal with traditional Cretan wine
Transfer from/to your hotel
All taxes and VAT

Exclusions

Personal expenses
Gratuities

Additional Info

The cooking class lasts 4 hours
Ride to the restaurant will be 30 minutes long
We can customize your experience further according to any particular dietary requirements you may have (allergies, etc)

Kids-friendly activity
Private Cretan Cooking Class in Heraklion Itinerary
Start your Cretan Cooking Class in Heraklion
Meet and greet the friendly driver who will pick you up from your accommodation and take you to the restaurant located in the quiet suburbs of Heraklion.
Cook like Cretans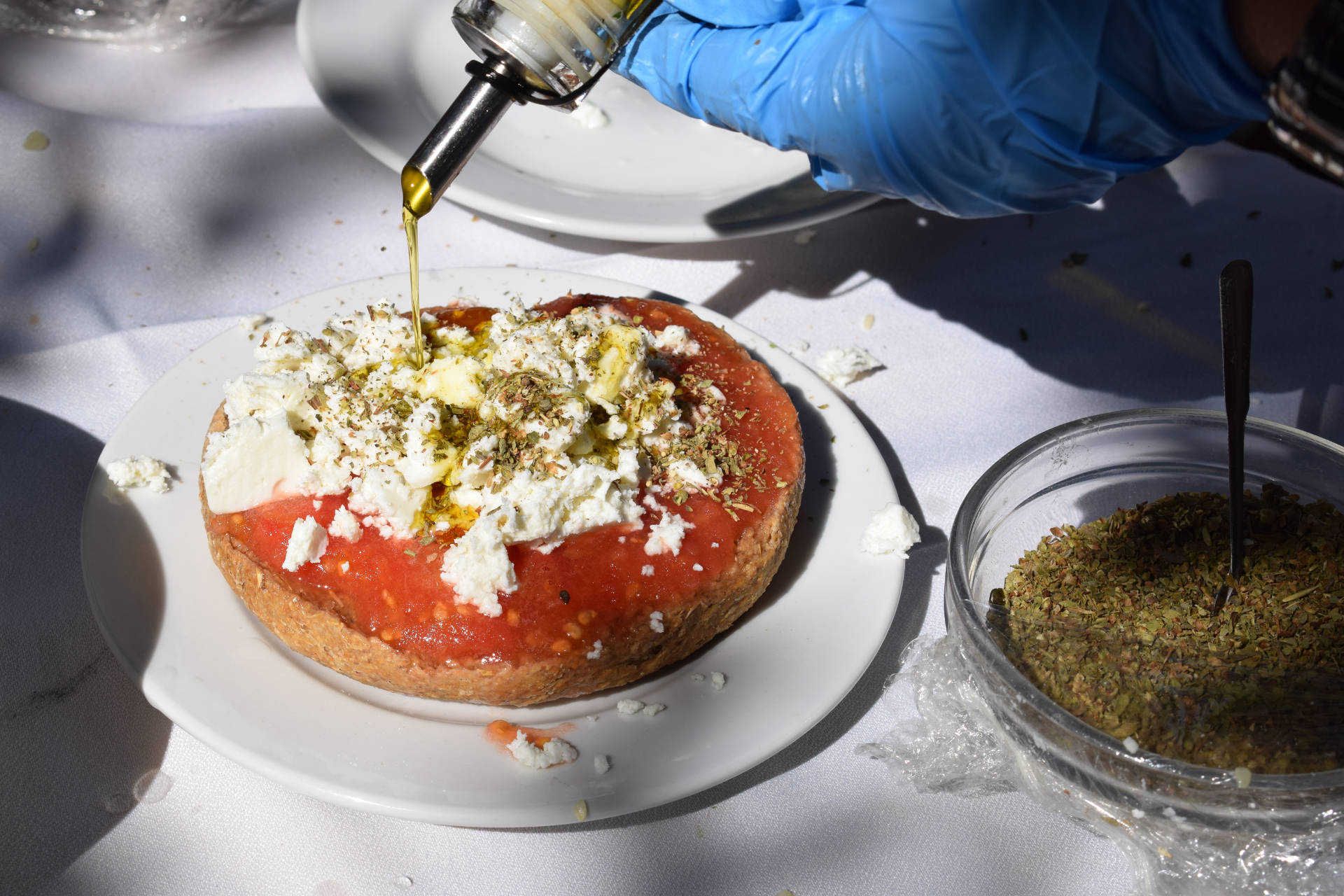 Once you reach the restaurant you are ready to get your hands dirty and enjoy this Cretan cooking class to the fullest. Start off by making your own dakos – a local specialty made of rusks and finely chopped tomatoes and feta. Master the art of making lamb with raw artichokes, as well as gemista – stuffed vegetables with seasoning. To top it all off: what is a Cretan cooking class without making some traditional pies with sweet cheese and honey!
Taste the fruits of your efforts
Savor the goodies you've prepared accompanied by local wine and a friendly atmosphere. End your Cretan cooking class in Heraklion and head towards your accommodation. Wave goodbye to your driver.
What to Expect from Private Cretan Cooking Class in Heraklion
Expand your palate and your cooking skills with this Cretan Cooking Class in Heraklion. Cretan cuisine is considered to be one of the healthiest diets in the world that is why great attention is devoted to preserving its authenticity. With the guidance of expert chefs, you will learn a Cretan grandmother's recipes for traditional dishes in this cooking class in Heraklion, such as dakos, roasted lamb, gemista, and more! Through this unique Cretan cooking class in Heraklion, you will develop new skill sets and learn how to choose proper ingredients for authentic Greek specialties. If you are looking for things to do in Heraklion then this delightful cooking class will surely not let your senses down.
Meeting Point for Private Cretan Cooking Class in Heraklion
Hotel pick up