Thessaloniki Sailing Tour on a Catamaran In a Nutshell
Unwind with the exploratory Thessaloniki sailing tour on a catamaran, offering a glimpse of the major sights of the city and a refreshing stopover in Agia Triada beach. Sail away into the Aegean waters with your favourite drink and friendly crew.
Start Time
Varies
Duration
– 4h 30m (half-day)

– 9h (full-day)

Rates

Morning Tour: Public tour from 10 am to 2:30 pm €75 / person
Sunset Tour: Public tour from 3 pm to 7:30 pm €75 / person
Full-Day Tour: Public tour from 10 am to 7 pm €109 / person
Private Sunset Cruise: Private tour approx. 8 pm to 10 pm €250
Private Morning 4.5-Hour Cruise €700 

Highlights

Revel in the bright blue waters of northern Greece and the most amazing beach games.
Board the catamaran for hours of sea travelling, and enjoy the full attention of the crew.
Tour all over Thessaloniki on a catamaran, sailing past every single impressive city highlight.
Inclusions

Fuel, Yacht & Crew
Hotel pick up & Drop Off
Snacks & soft drinks
Beer & Wine
Fruit salad & Greek yoghurt
Food serving
Snorkelling gear
Towels & jackets
Internet access

Exclusions

Any additional food or drinks required
Transportation from/to the hotel with a taxi or bus

Additional Info

The detailed location of the yacht and its parking place is provided if necessary.

Weather permitting, some basic sailing skills are offered, plus a chance to sail on your own and take pictures!
Thessaloniki Sailing Tour on a Catamaran Itinerary
The Thessaloniki Sailing Tour starts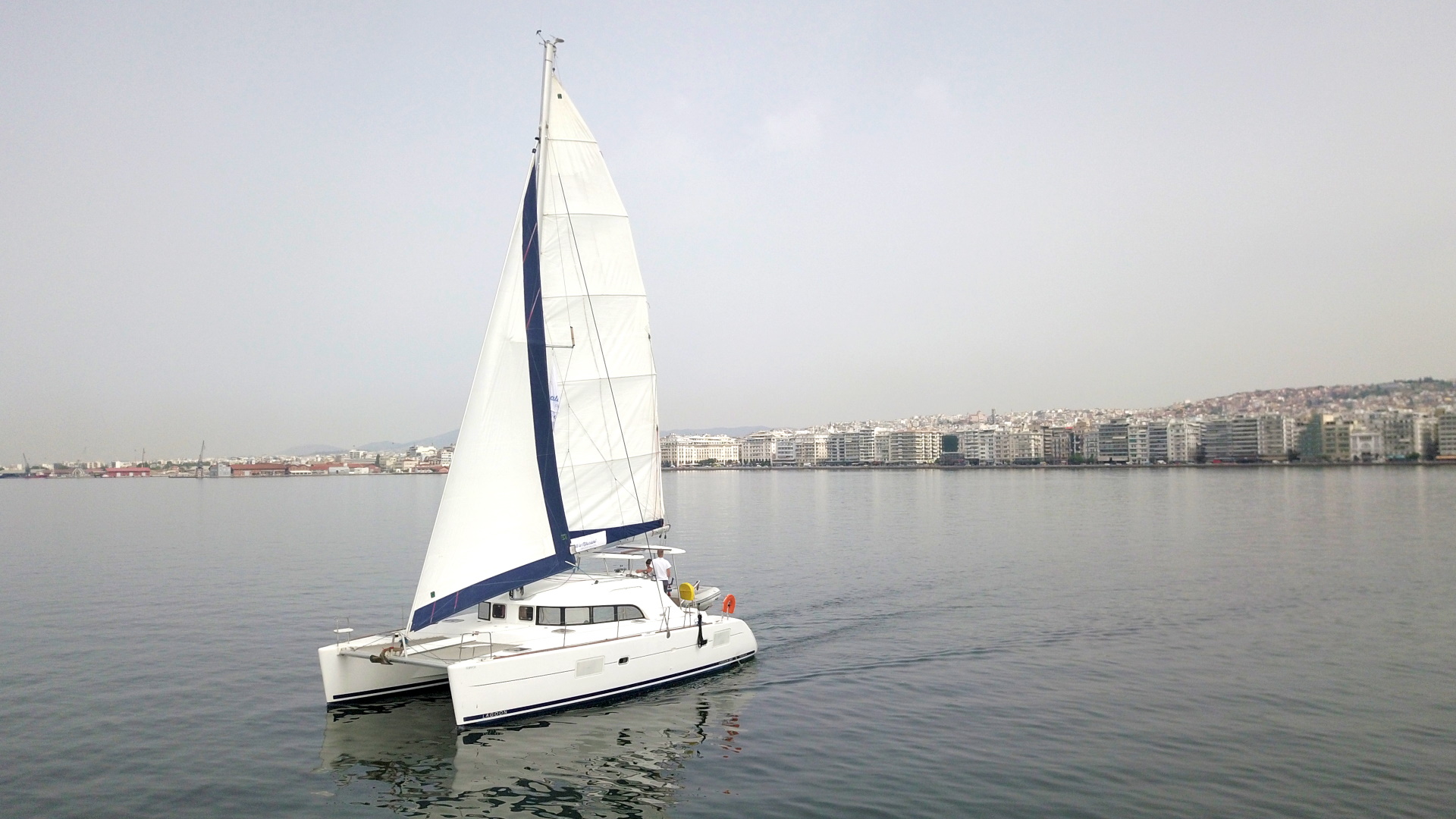 As you enter the yacht, the friendly crew take care of all your needs, implement safety procedures and set sail!
Thessaloniki City Centre
Passing by the seafront of the city, you have the chance to take a closer look at all the attractions Thessaloniki is known for from a complete another point of view.
Agia Triada Beach
Whether you prefer swimming, sunbathing, or endless moments of games by the beach, this is your chance to indulge in your favourite activity. The sandy beach of Agia Triada is a Greek summer dream.
What to Expect from Thessaloniki Sailing Tour on a Catamaran
Lift your spirits with the Thessaloniki sailing tour and explore the busy metropolis in a beautiful wide-deck yacht. Take a look around the city and all the distinctive features, like the imposing White Tower, the historic Aristotelous Square, the statue of Alexander the Great, and the famous Umbrellas by Zongolopoulos. Gaze upon each attraction from an exceptional standpoint and take out your cameras to capture every monument that catches your eye and every moment of fun. Release some steam and let the experienced skippers and hostesses take you on an entertaining sailing tour around Thessaloniki and its wonders. Swim in the clear waters of Agia Triada beach and engage in all sorts of lively activities – snorkelling, paddleboard or inflatable toys and equipment are all available during the tour. Help yourselves to the cool drinks and Greek bites offered on board and enjoy a fulfilling cruise.